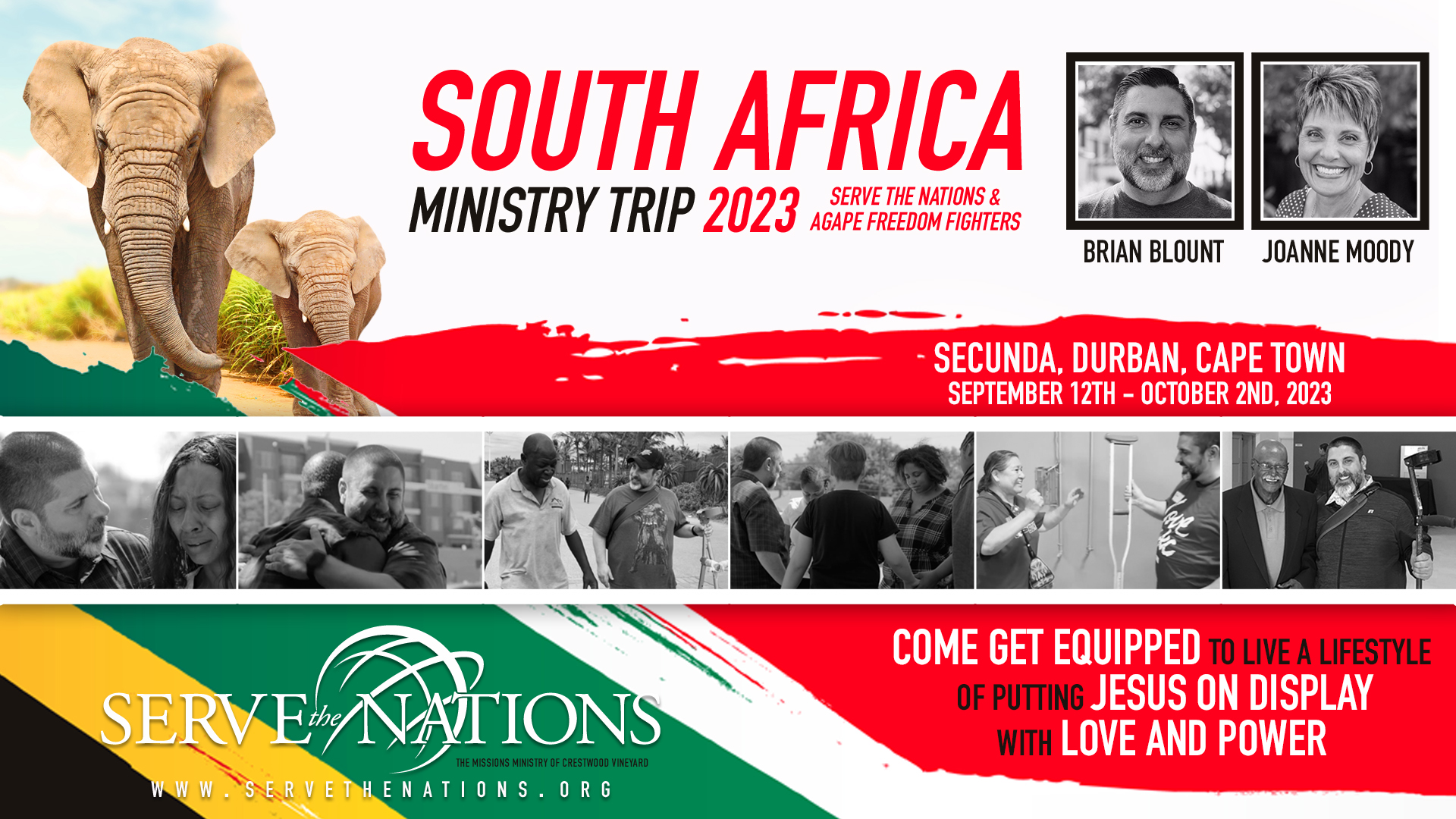 This Trip is Full
For information on future trips, contact servethenations@crestwoodvineyard.org.
South Africa 2023
Come serve the nations with us!
Serve the Nations (STN), lead by Brian Blount is the missions expression of Crestwood Vineyard Church.
We invite you to join us on our next ministry trip to South Africa 2023!
We have been ministering in South Africa since 2013, and each year we have seen the kingdom of God break in so powerfully! Hundreds and hundreds of people have come to the Lord, primarily one-on-one through signs and wonders, healings, and miracles. During these ministry trips, we've witnessed countless healings: the blind seeing, the deaf hearing, the crippled walking, and many other powerful kingdom encounters in the streets, townships, malls, restaurants, beaches, and churches.
The focus of these ministry trips to South Africa is to come alongside the local churches to help equip the saints in empowered evangelism and living a lifestyle of putting Jesus on display with love and power. The uniqueness of these trips lies in the hands-on equipping you will experience. You will have opportunities and training to see the sick healed through your hands and to lead people into a personal relationship with Jesus through the power and demonstration of the gospel. You will also have the opportunity to learn to equip others to do the same.
These are life-changing trips; you will experience the beautiful people and culture of South Africa, great food, and lots of fun. These trips are purposefully designed for no more than 15 people in order to foster connection, relationship, and mentoring in cultivating a naturally supernatural lifestyle as you go.
We are offering two separate ministry trips this year with Brian Blount and with our dear friend Joanne (Jo) Moody / Agape Freedom Fighters . You don't want to miss this ministry trip!  We hope you can join us as we serve beautiful South Africa.
Below are the following 2 ministry team trips that are available.
Also note: the two team trips will overlap for 7 days from September 18th-25th.
Team Trip 1: Secunda, Durban, Cape Town
Cost of this trip:

$2250.00

Dates for the ministry trip: September 12th-25th, 2023
Arrive in Johannesburg: ON September 12th, 2023
Depart Cape Town: ON  September 25th, 2023
Team Trip 2: Durban, Cape Town
Cost of this trip:

$2250.00

Dates for the ministry trip: September 18th-October 2nd, 2023
Arrive in Durban: ON September 18th, 2023
Depart Cape Town: ON October 2nd, 2022
Cost
A deposit of $250.00 will be due 5 days after your acceptance to the trip.  The cost for each trip is$2250.00.
The trip fee includes the $250.00 non-refundable deposit*, as well as lodging, domestic transportation (including the 2 in-country flights, any vehicle rentals, fuel, Ubers or the like), meals, a cultural experience and any trip materials.
In addition to your trip cost, you will be responsible for your international travel costs to and from your host city, passport and visa fees, personal spending money, gratuities where appropriate (waiters, bus drivers, housekeeping, etc.), country exit tax, and immunizations where required. Medical travel insurance will also be required for all team members. There are many options to purchase medical travel insurance, and plans range in price from $30 and up. More information can be found in the team packet.
*If for any reason STN must cancel this trip, all payments made will be refunded, minus any expenses incurred on your behalf. You can also choose to apply any payments to a future trip with STN.  In the event you cancel your trip before July 12, 2023, any payments made will be refunded, minus any expenses incurred on your behalf and the $250 deposit. If a team member cancels on or after July 12, 2023, all refunds will be forfeited. Cancellations must be done in writing via email to servethenations@crestwoodvineyard.org. We will make every effort to make exceptions for cancellations when appropriate. Our desire is never to cause financial hardship for our team. Refunds will not be made until after the trip is completely over.
Next steps
Fill out the online application. Applications are now open. The last day to apply is August 5, 2023, or until the trips are full. Spots for these trips will fill up fast and will be first come first served. In the event we need a pastoral reference, please send us contact information for your pastor/leader so we can get that information back as quickly as possible.

While your application and pastoral reference hold your spot for the trip, please note they DO NOT guarantee acceptance for any Serve the Nations ministry trips. We prayerfully consider each applicant and fit for our trips.

Look for an additional email with further instructions! Once we have received your application, deposit, and pastoral reference (where applicable),  you will receive an approval email with further trip details and instructions regarding payment.
We are excited about this trip and having you join us! Please contact Angie Whiting if you have any questions at servethenations@crestwoodvineyard.org.
Check out some video healings and testimonies from previous South Africa trips.
Crestwood Vineyard is part of the Vineyard movement, a global association of 2,500 churches around the world.
For more information, visit Vineyard USA or Vineyard Global.