Welcome!
Our Sunday worship service starts at 10:30 and ends around 12:00. Join us at our beautiful, historic facility located at 2515 NW 16th St on the corner of NW 16th and Villa in OKC.
6 Steps to Your First Visit
1. Where to Park
Please park in our visitors parking lot off of Villa on the north side of the building. Come in through the green door.
If you need handicapped parking and access, please park in the 16th St. lot on the south side of the building, and enter through the doors on the south side.
Friendly greeters will be at each entrance to greet you and help you find your way into the church.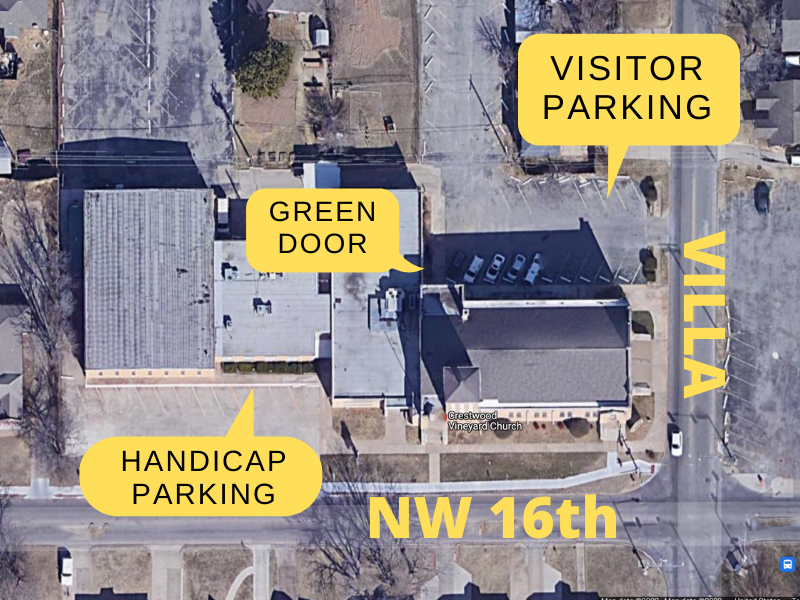 2. Check in the Kids
If you arrive with kids, stop by CV Kids Check In desk located in CV Kids lobby. One of our CV Kids team members will need a few minutes to register your child and set them up for a great kid's church experience, so plan to arrive about 10-15 minutes early.
Kids ages 3 and up will stay with parents during worship, and then be released to go to class after communion. Children are always welcome in our services, so feel free to keep your kids with you in the service if you would prefer. Activity packets and crayons are available to children in the sanctuary.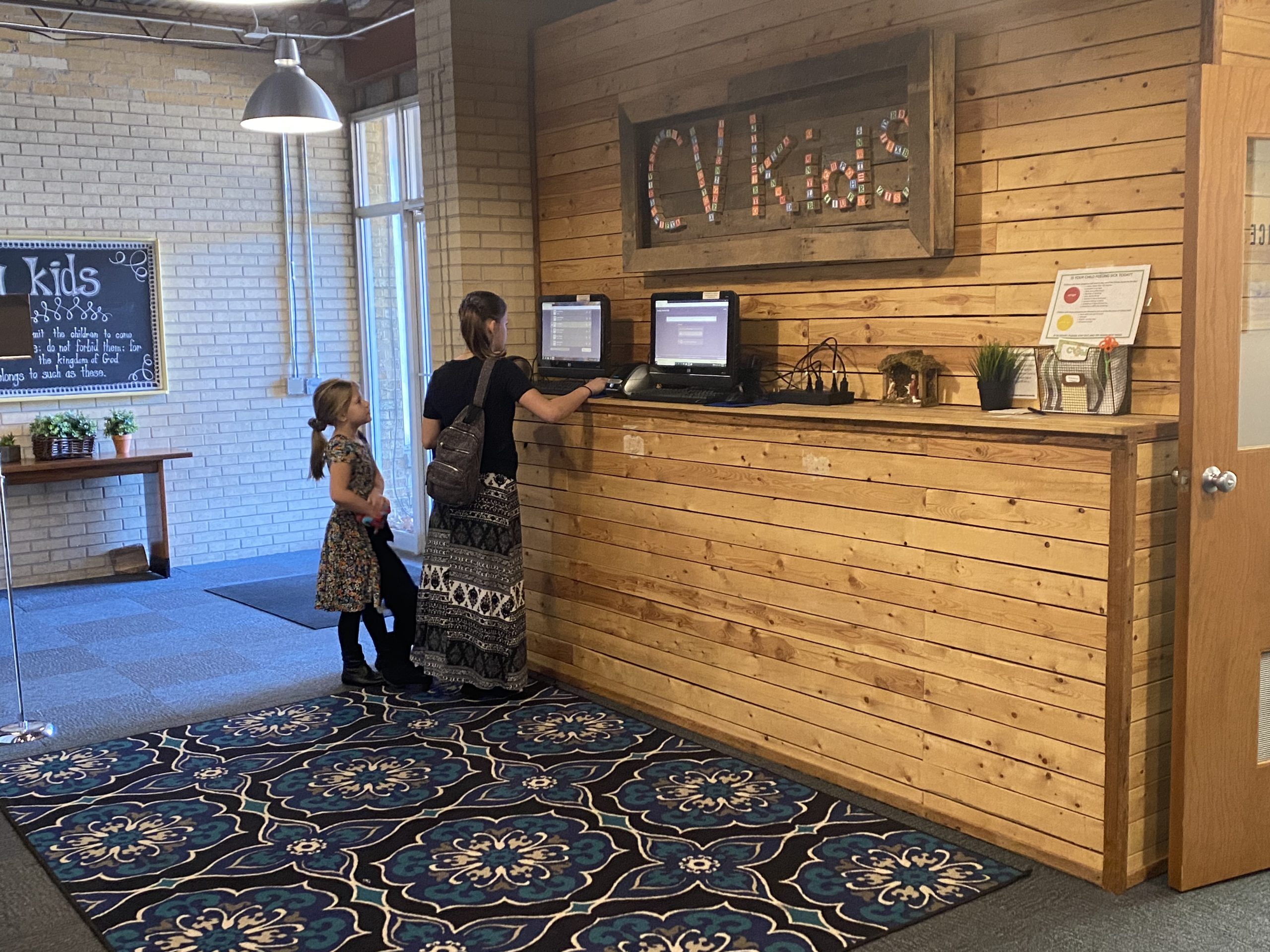 3. Grab Some Coffee
Stop by our coffee room on the way to the sanctuary where you can grab some coffee, tea, or water. Drinks are welcome in the sanctuary.

4. Join the Service
Come on in! You can expect each Sunday morning service to include 4 components:
Worship – Feel free to sit or stand, raise your hands, or quietly enjoy the worship songs.
Communion – We celebrate communion every Sunday. All people are welcome to join in communion at Crestwood Vineyard, though you are welcome to decline to participate.
Teaching from the Bible – One of our preaching team members explores what God has to say to us today through the Scriptures.
Ministry time – This may look like sharing prophetic words, praying for healing, or sharing testimonies.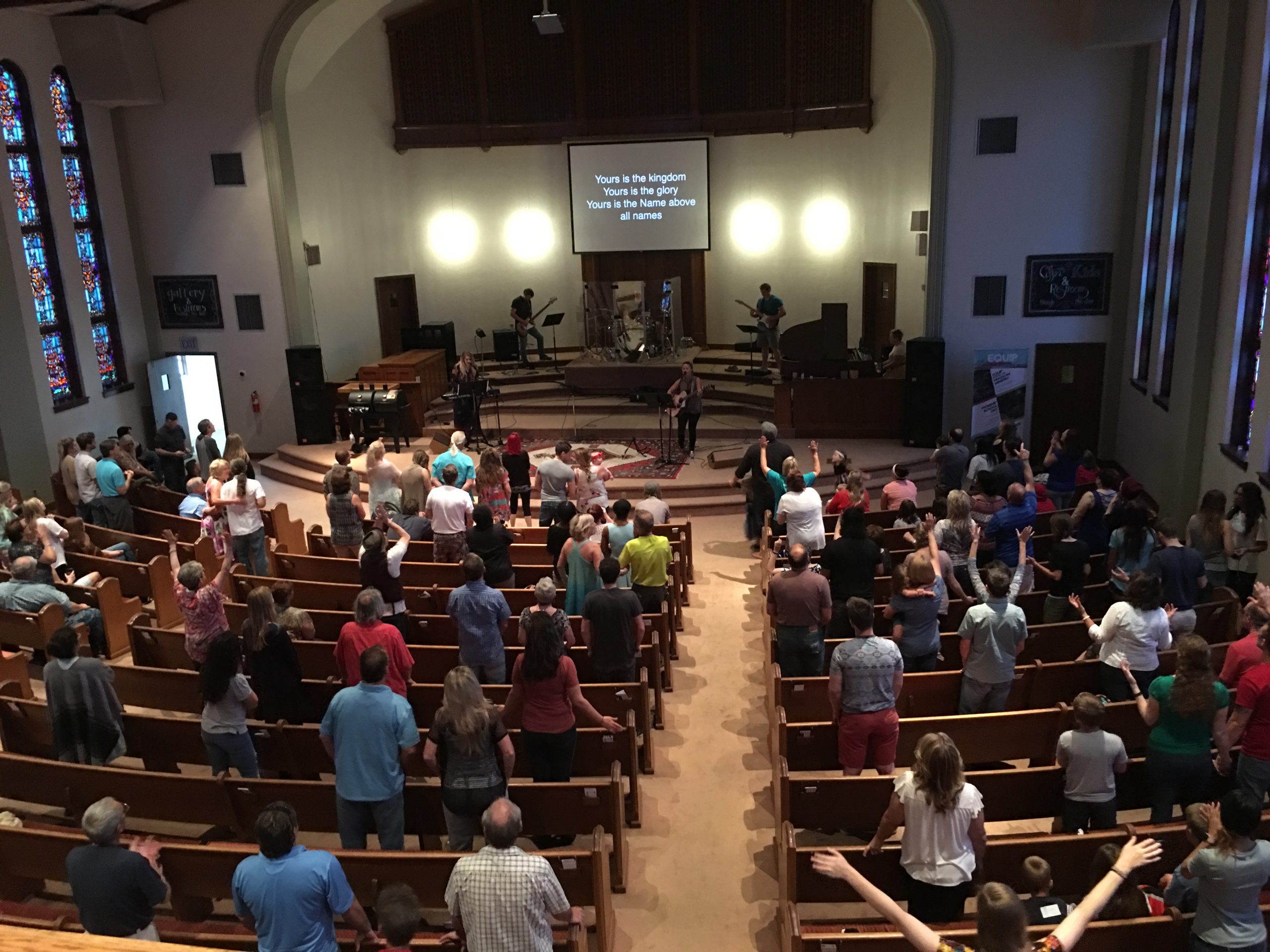 5. Ask a Question
Being new isn't easy. At the back of the sanctuary, you'll find an Info Table with a smiling volunteer ready to help you find your way around the building, answer questions, and make you feel at home. They'll also have a gift for you! Just say "I'm new!"
Filling out a Connect Card helps us follow up with you and make sure you are getting connected at Crestwood.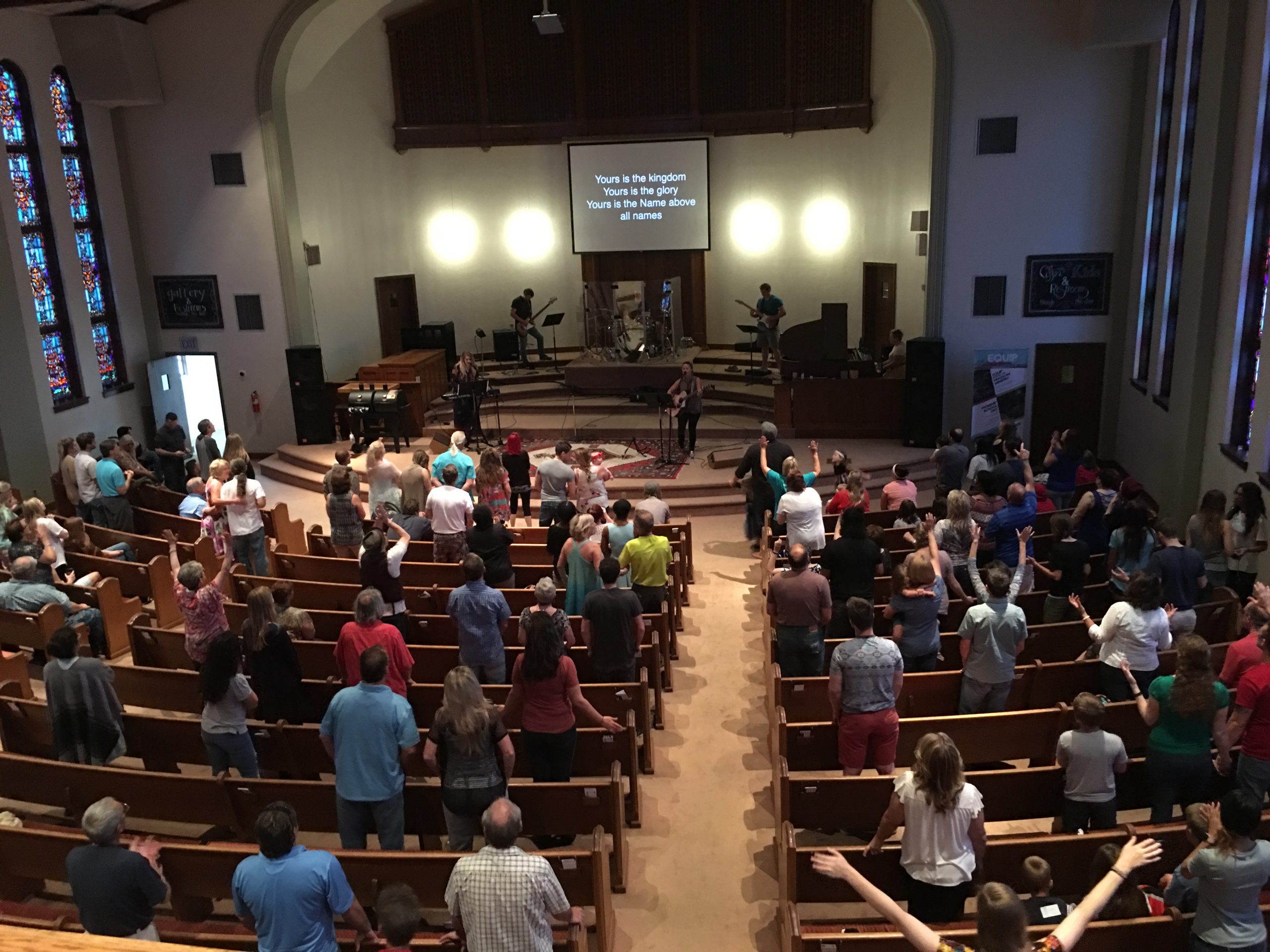 6. Come Back Again!
We hope to see you again next Sunday! Also, please check out our Next Steps and Groups for adults.
What do people wear?
All people are welcome at Crestwood—just as you are! Most people dress very casually, but the most important thing is that you feel comfortable… we're pretty sure what you wear doesn't matter to God, so it doesn't to us either!
What do you have for kids and teens?
Children are valued in God's kingdom and in our church family! We offer CV Kids classes on Sunday mornings for children from birth through 5th grade. CV Youth is for 6th through 12th graders and meets on Sunday evenings at 6-8pm in the Basement. |LINK|
Can I take communion or receive prayer?
We receive communion together every Sunday, and we welcome anyone to participate no matter where you are on your faith journey.
Prayer is offered after every service, and you are invited to receive prayer from the ministry team.
What do you believe?
Crestwood Vineyard is open to everyone, no matter what your thoughts are about God or church.
We adhere to the historical Christian faith, and we affirm all the major creeds of the Church, including the Apostles' Creed, the Nicene Creed, and the Chalcedonian Creed.
Read a more detailed overview of what we believe.
What is the Vineyard?
Crestwood Vineyard is a part of the Association of Vineyard Churches. The Vineyard family of over 2400 churches is committed to the multiplication of kingdom-minded, Christ-centered communities of local churches in nations across the world. For more info about the Vineyard, visit vineyardusa.org.
What about giving?
If you're new, please keep your wallet in your pocket. Giving is for those who have made Crestwood their home church. The financial gifts from our congregation make all the ministry here possible.