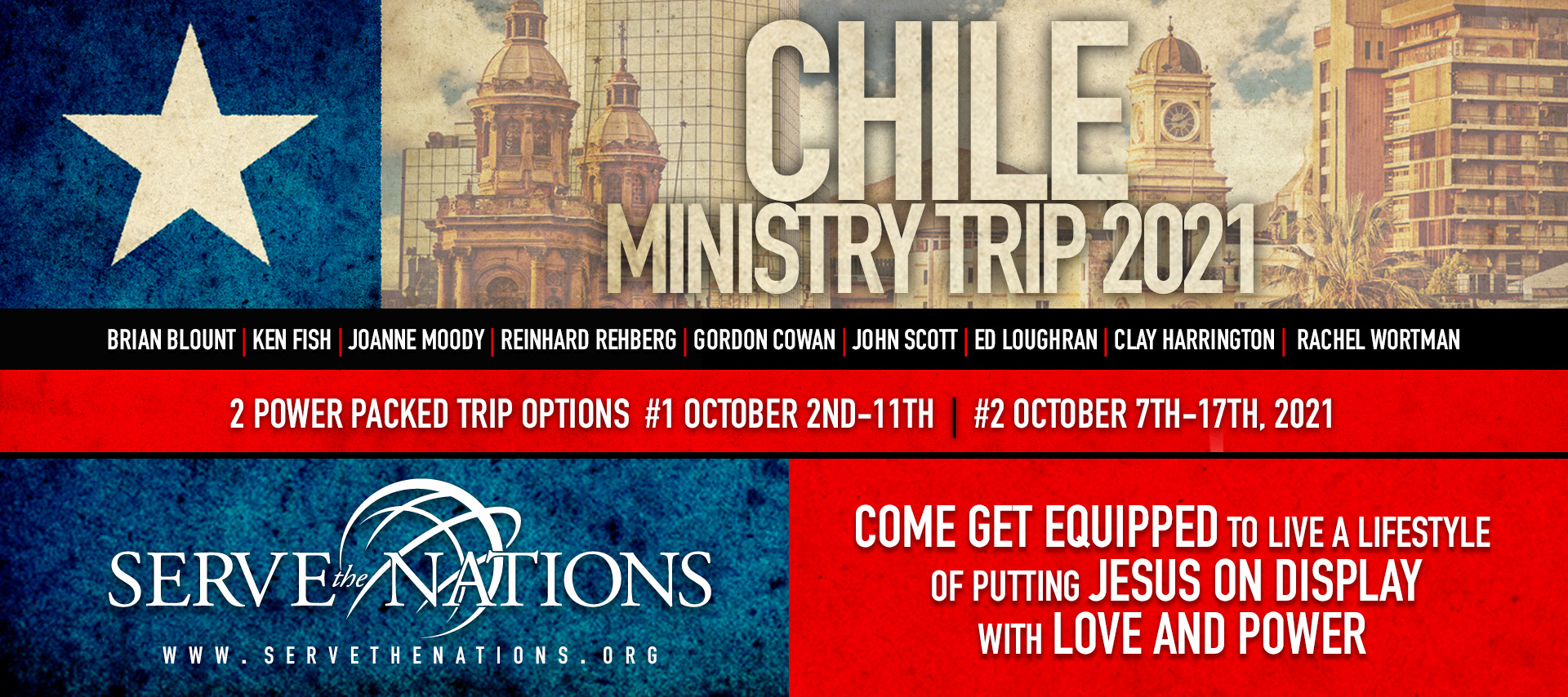 Chile 2021
Come serve the nations with us!
We invite you to join us on our 2021 ministry trips to Chile! The focus of these ministry trips to Chile is equipping the saints and churches to learn how to live out a lifestyle of putting Jesus on display with love and power. We will be ministering in churches, conferences, ministry schools, and on the streets.
The uniqueness of these trips lies in the hands-on equipping you will receive. You will have opportunities and training to see the sick healed through your hands and to lead people into a personal relationship with Jesus through the power and demonstration of the gospel. You will also have the opportunity to learn to equip others to do the same.
We are offering two ministry trips this year with Brian Blount and team in Chile. All ministry trips are through Serve the Nations (STN), the missions expression of Crestwood Vineyard Church.
Trip 1: October 2-11, 2021 (FULL – no more applications being accepted for Trip 1)
Trip 2: October 7-17, 2021 
Cost
Early bird cost is $2250 if you secure your spot by applying by July  22nd ($300 discount).
Regular price is $2550 if applying after July 22nd.
Application deadline is August 1st. Spaces for this ministry trip will fill up quickly!
Payment schedule:
No funds will be collected until after August 1st.
Aug 5th, 2021 – $500 deposit due
Sept 5th,  2021 – Balance due
Trip fees include lodging, domestic transportation, and two meals a day.
You will be responsible to pay for your international flights, passport and visa fees, some meals, personal spending money, gratuities where appropriate (waiters, bus drivers, housekeeping, etc.), country exit tax, and immunizations where required.
Next steps
Fill out the online application. Applications are now open. Application deadline is August 1, 2021, or until the trips are full.
Once we have received your application, you will receive an email with further trip details and instructions regarding payment. 
Please note that your application reserves your spot on the trip until August 5th, but the deposit and final payments must be paid on time in order to secure your spot. Please do not purchase any international flights for this trip until after we have notified you to do so.
We are also aware of the fluctuating global situation regarding Covid-19 and evolving guidelines regarding international travel. Should the pandemic necessitate that cancel the trip, we will notify you after August 1st. Please be aware that you will be required to comply with national and local government guidelines, airline requirements, and whatever private churches and businesses ask of participants on the trip.
We are excited about this trip and having you join us!
Please contact Angie Whiting if you have any questions at servethenations@crestwoodvineyard.org.
Check out some video healings and testimonies from previous STN trips.
Crestwood Vineyard is part of the Vineyard movement, a global association of 2,500 churches around the world.
For more information, visit Vineyard USA or Vineyard Global.