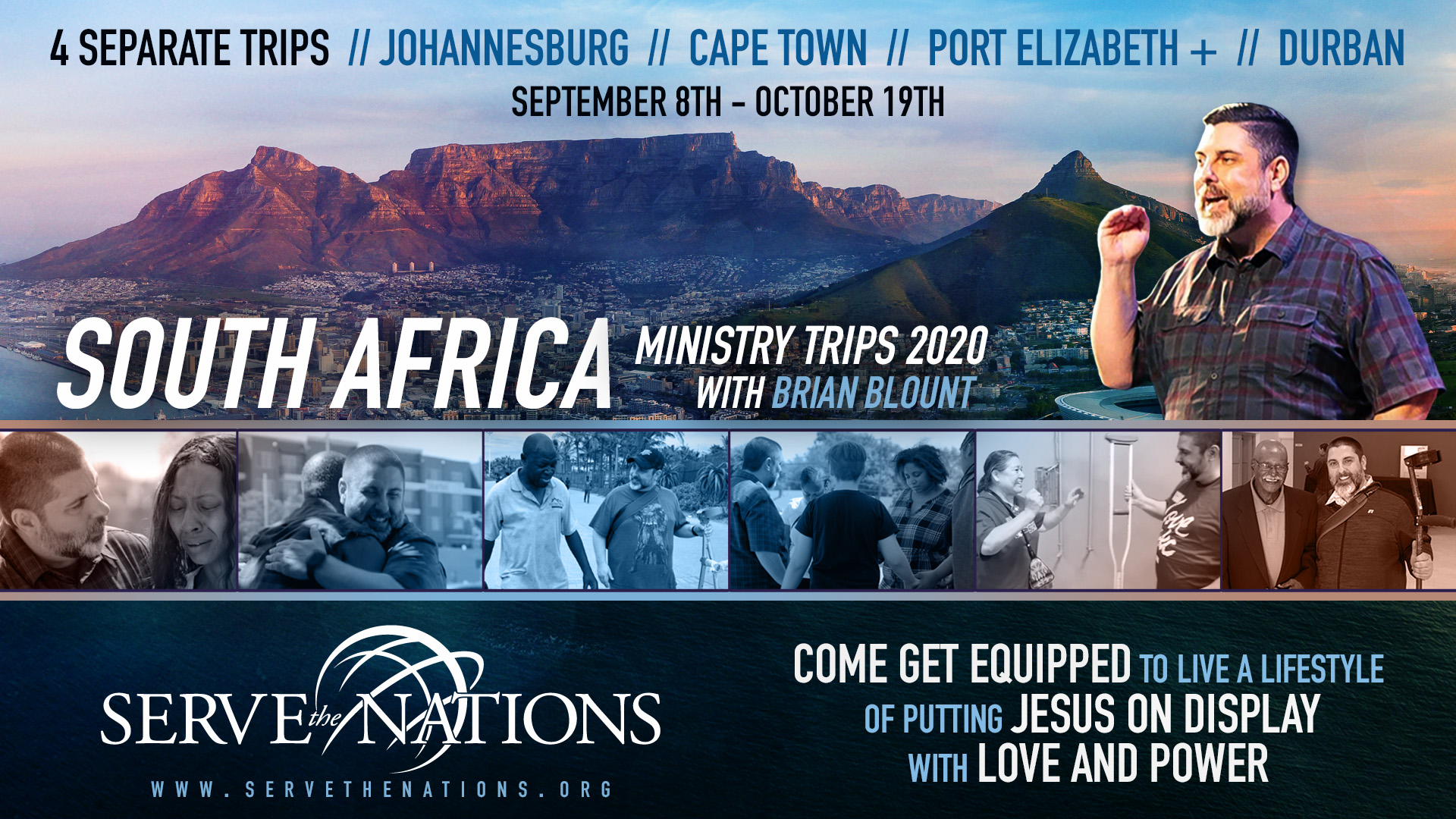 South Africa 2020
We are excited about this year's ministry trip to South Africa. This will be our 6th year ministering there, and, each year we have seen the Kingdom of God break in so powerfully! We've seen hundreds come to the Lord, primarily one on one through signs and wonders, healings and notable miracles such as the blind seeing, the deaf hearing, those who have been crippled now walking along with many other powerful kingdom encounters in the streets, townships, malls, restaurants, and in the churches.
These ministry trips to South Africa have been all about equipping the saints and churches to learn how to live out a lifestyle of putting Jesus on display with love and power. The uniqueness of these trips is you will have the hands on equipping opportunities to see the sick being healed through your hands as well as helping lead people into a personal relationship with Jesus through the power and demonstration of the Gospel. You will also have the opportunity to learn to equip others to do the same.
We are offering four separate ministry trips this year! You have the choice to pick from one of the four trips to be a part of Brian Blount/Serve the Nations, the mission arm of Crestwood Vineyard Church.
Below are the following 4 separate ministry trips that are available.
Trip 1: Johannesburg, South Africa 2020
Dates for the Johannesburg Ministry Trip: September 8-18, 2020
Arrive in Johannesburg: ON September 08, 2020
Depart Johannesburg: September 18, 2020
In Johannesburg, we will have the opportunity to travel to some of our Vineyard friends and family, in two new areas – Polokwane and Bella Bella. And of course, a trip to Joburg would not be complete without visiting our friends at Emthonjeni – a non-profit/church serving communities that have been greatly affected by HIV/AIDS. We will also speak to the Leadership team of Vineyard Pastors in this Northern area.
Trip 2: Cape Town, South Africa 2020
Dates for the Cape Town Ministry Trip: September 18-28, 2020
Arrive in Cape Town: ON September 18, 2020
Depart Cape Town: September 28, 2020
In Cape Town this year, we will have the privilege to join the Vineyard National Conference of South Africa. The conference is Sept 24-26, 2020. Part of our time there will be doing outreach before and during the conference.
Trip 3: Port Elizabeth +, South Africa 2020
Dates for the PE + Ministry Trip: September 28-October 8, 2020
Arrive in Port Elizabeth: ON September 28, 2020
Depart East London: October 8, 2020
This trip will be very fast paced! We will be visiting 5 different areas over 10 days! This will include lots of travel around this part of the Eastern Cape. We will be visiting churches and towns we've yet been to, as well as spending time with old friends!
Trip 4: Durban, South Africa 2020
Dates for Durban Ministry Trip: October 8-19, 2020
Arrive in Durban: ON October 8, 2020
Depart Durban: October 19, 2020
We will spend much of our time in Durban out on the streets! We will be joining our Vineyard family there in a mix of several churches doin' the stuff. We will help His Life Vineyard with their ministry to the informal settlement of Malacca, as well as venturing to another informal settlement in the Valley of a Thousand Hills. This trip will require much walking in areas that may be physically challenging.
Cost
The cost of each trip is $1500.00
This cost includes a $200.00 NON-REFUNDABLE* deposit, lodging, domestic transportation, breakfast and some dinners, and one fun day activity.
If you are unable to join us on this ministry trip, your deposit will be considered a donation to Serve the Nations or can be used on a future ministry trip.
You will be responsible for your International travel cost, as well as any domestic South African flights, passport and visa fees, meals, personal spending money, gratuities where appropriate (waiters, bus drivers, housekeeping, etc.), country exit tax, and immunizations where required.
*COVID-19
We understand the uncertainty that still remains with Covid-19. We are in constant communication with our friends/pastors in South Africa and will let everyone know if this trip gets postponed. In case of cancelation, all monies paid to StN for this trip will be refunded.
Next steps
Have your Pastor/Spiritual Leader complete the Pastoral Reference form online.
Wait for your approval letter with further instructions! Once we have received both the above forms, and you are approved, you will receive an approval email with details regarding deposit and further payment information.
**Please note that your application and pastoral reference do NOT guarantee acceptance for any Serve the Nations Ministry Trips. We prayerfully consider each applicant and their fit for our trips.
Spaces for this ministry trip will fill up quickly! The maximum number of participants per trip will be 15. Some exceptions can be made for groups. Please contact us for more information.
We are excited about this trip and having you join us!
Please contact Angie Whiting if you have any questions at: servethenations@crestwoodvineyard.org.
Check out some video healings and testimonies from previous South Africa trips.